A great article written by my friend Kate Chase for Commercial Arts Magazine. Kate spent many years in the business of commercial advertising and her previous agency Kate Chase Presents specialized in representing retouchers as artists/craftsmen. In this article Kate describes the early days of retouching prior to the digital age and moves through the evolution of the retouching industry of today. A must read!
---
Talking Retouching
by Kate Chase
Whenever folks in his industry—wine and cheese—ask my husband what I do for a living, he tells me that he sighs inside. Odder perhaps is the fact that even though I've been involved in the photo-retouching business for exactly 25 years, when the same inquiries come my way, even from my industry, I sigh the same sigh. Years in the making, the sigh represents knowing that I won't be able to explain exactly, or succinctly, what commercial retouching is—and do it justice.

RETOUCHING AND ME
Born into a non-retouching family in Cheshire, Massachusetts, I couldn't have scripted that in 1983, at age 23, I would find myself recruited, through a friend, to Hollywood. The job: In-house delivery person for Wild Studio, an art services shop. At that time, Wild Studio was a third-generation, family-run business that had been providing retouching services to Los Angeles agencies since 1959. My job evolved into an integral role in that I would sometimes review verbally, marked-up imagery from art directors and print production managers. "Katie from Wild" came to be on a first-name basis with receptionists and guards at the studios: Columbia, Warner Bros., Fox, Disney, Universal, Republic; record companies: Capitol, A&M, Warner, Virgin; and ad agencies and design firms all over town. I got to know all the streets, shortcuts and key phone booths of Los Angeles. My early observations were that retouching involved airbrushing and/or some chemical alterations to photographs.

CHARLIE WILD-STYLE RETOUCHING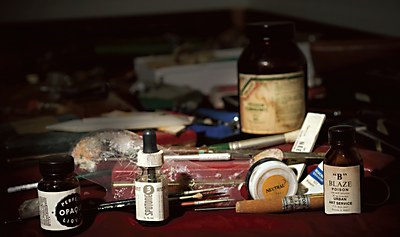 (Charlie Wild's tools of the trade—bleaches, dyes, brushes, curves, etc.) When Charlie Wild retired, there were anxious art directors and production managers all over Los Angeles needing assurances that his absence wouldn't change their retouching. Wild was their craftsman savior, quick and intuitive with art direction and the tools of the trade.
In researching family details with his grandson Tim Wild, he confirmed that Henry Wild had seen early manipulating by airbrush artists on black-and-white photographs during his WW1 military service in France. Later in 1930, Henry moved his family to New York to apprentice at a retouch studio.
Photo-retouching for newspaper reproduction by Charlie Wild, circa 1960.